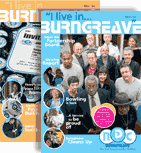 The news section lists and archives all old BNDfC press releases.

Letter To The Star March 2008
Latest press releases
SPITAL HILL PARTNERSHIP PRESS RELEASE


2007-08-02 10:54:59

News items for August 2007


2007-08-02 10:51:15

A Sheffield community worker has received a royal stamp of approval from the Queen after going to collect his MBE.


2006-08-15 15:38:02

Archive of news and press releases from August 2006.


2006-08-15 15:34:52
All BNDfC news and press releases, archived by month.

Downloads of the New Deal magazine, giving you lots of information about our successes so far and about the projects that we fund.